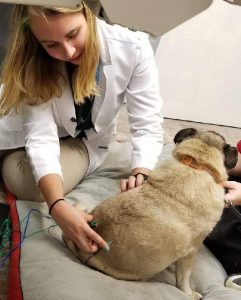 Acupuncture is an ancient therapy that originated in China. Acupuncture for dogs and cats has been practiced for over 2000 years, but has become increasingly popular in the United States over the past 2-3 decades. Acupuncture treatment involves the stimulation of local points on the body with small needles or pressure to restore balance and relieve pain. Acupuncture can be used to treat a variety of conditions and is a great supplement to conventional medicine, particularly in cases of chronic pain, arthritis, muscle strains/soft tissue injuries, or neurological disorders. Acupuncture can also be used as an additional treatment for a wide level of other disorders and can be helpful in supporting animals through cancer treatment or providing comfort to geriatric patients. Acupuncture can be beneficial for any animal, whether dogs or cats. Dr. Walker, Weddington Animal Hospital's certified veterinary acupuncturist, has even done acupuncture on turtles before! With its minimal side effects and universal positive benefits, acupuncture is a great adjunct therapy for pets for a wide variety of conditions.
The Perfect Acupuncture Patient
There is no such thing as the perfect acupuncture patient. Most animals tend to enjoy acupuncture and will settle down after a few treatments. Some patients even fall asleep after the needles are placed. Acupuncture can be used in both young and older patients for a variety of conditions. For more wiggly patients, there are alternative methods of therapy such as acupressure, massage, laser, or local injection of acupuncture points.
The Treatment Process
Your pet will be scheduled for an initial acupuncture consult, where a thorough history of your pet's health, lifestyle, and personality will be recorded. Your pet will be examined by a veterinarian and their tongue and pulse will be examined to aid in assessment. The veterinarian will assess your pet's pain level or sensitivity at certain acupuncture points and a unique treatment plan will be made. The doctor will place acupuncture needles in designated areas of your pet's body to help release endorphins and promote healing. Often, electroacupuncture (adding electrical stimulus to a needle) or aquapuncture (injection of saline or B12 into an acupuncture point) may be incorporated into your pet's treatment plan. Your veterinarian will discuss possibilities of herbal or multimodal therapies that may aid in your pet's treatment if warranted. Typical appointments last 30-45 minutes and may be recommended weekly or every other week to start. As your pet improves, treatments may be spaced out as needed.
Conditions That Benefit from Acupuncture
Acupuncture can be a great solution for pets of all ages. Most commonly, acupuncture is used for the following conditions:
Degenerative joint disease/arthritis

Intervertebral disc disease (IVDD)

Chronic pain management

Chronic diseases

Cancer palliation

Neurological disorders

Sports medicine

Post-surgical/injury rehabilitation

Supplemental treatment for other medical conditions

Appetite stimulation

Supplement treatment for anxiety behaviors

And more!
Success Story: The Case of Cora
Cora came to Dr. Walker at Weddington Animal Hospital for acupuncture to treat anxiety. After trying multiple medications and not seeing positive benefit, Cora and her owner were ready to try something new.
Cora is generally a very nervous dog with multiple fears – men, strangers, and loud noises among the most prominent. When she first met Dr. Walker, she was very nervous for her first acupuncture treatment, but fell asleep a few minutes after the needles were placed. After several treatments, she grew to love acupuncture and would run to her bed for treatment. Her owner also began to see subtle changes in her anxiety, such as her confidence within the house. While Cora was still nervous, she was able to respond to her surroundings with less fear, so treatment was continued with weekly/bi-weekly acupuncture and herbal therapy.
After a few months of treatment, the owner reported one evening after an acupuncture session that Cora greeted the pizza man at the door despite him wearing a hat (one of her biggest fears). She still enjoys her acupuncture sessions and comes running to greet Dr. Walker whenever she sees her.
Cora enjoying one of her relaxing acupuncture sessions with Dr. Walker.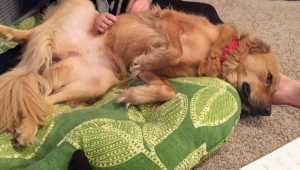 Is Pet Acupuncture Right for My Pet?
Acupuncture is great integrative therapy and can be beneficial for a variety of medical conditions. Many patients who suffer from arthritis or other conditions see a great benefit in quality of life with acupuncture treatments. If you are interested in trying acupuncture for your pet, or have any questions talk to your vet or contact the veterinary acupuncturist at Weddington Animal Hospital today: call or email our practice.