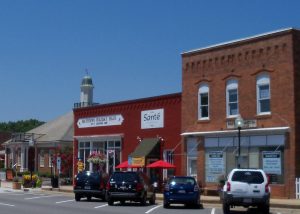 Matthews, North Carolina is a great place to live. With access to lots of restaurants, places to shop, and plentiful outdoor activities, it is not a surprise that many people choose to live in this area. The average population of Matthews, North Carolina in 2017 was 32,117 individuals. With this population, it is expected that the number of cats and dogs residing in Matthews is ~21,520. With this many pets, it is expected that the amenities would cater to the crowd of cats and dogs and their loving owners that live within Matthews.
Outdoor Parks and Trails in Matthews
A nice feature of Matthews, North Carolina is its multitude of outdoor parks and trails. There are several areas located in Matthews that are pet-friendly.
Squirrel Lake Park
Squirrel Lake Park features a pond and 36 acres of land. This park also connects to the Greenway, which offers many miles to hike, jog, walk, or run with your beloved pup. This gorgeous park also features numerous shelters, picnic table and outdoor grilling areas, playgrounds and walking trails. 
Four Mile Creek Greenway
The Four Mile Creek Greenway, as mentioned above, links downtown Matthews with Squirrel Lake Park. This beautiful greenway is the first in the Town of Matthews and is made with an asphalt trail and boardwalk. Along the greenway, you can make numerous stops at nearby parks and other locations. You'll also get to explore the great nature which includes Shortleaf Pine and Loblolly. This greenway is the perfect trail for a nice walk or jog with your furry friend.
Colonel Francis Beatty Park and Idlewild Road Park also offer many opportunities to explore the outdoors with your pet. The greenway winds its way throughout Matthews, allowing plentiful access to several miles of trails to explore. If you and your pup enjoy spending time in the sunshine, these places are definitely worth checking out.
Pet-Friendly Restaurants in Matthews
Matthews, North Carolina is also home to several restaurants that are open to you dining with your pup. Many of these restaurants provide outdoor seating and will allow well-behaved pets to tag along. Please call the restaurant in advance to ensure they are pup-friendly to be sure your pet will have a good experience. Try checking out some of these local places:
Bruster's Ice Cream: Bruster's is not just a treat for you, but also for your dog. Ask for a puppy ice cream when ordering and they'll be sure to scoop your dog a pup-friendly sundae!
Jekyll and Hyde Taphouse Grill: This trendy bar serves up delicious food in a great setting. Feel free to bring your pup along and sit at one of the pet-friendly outdoor tables.
A Barking Boutique: Stop by a Barking Boutique to look at their pet apparel, toys, candles and homemade treats.
Enjoy Matthews, NC With Your Dog Today
Matthews, North Carolina is home to many pets and has many beautiful trails to explore and delicious restaurants to experience. Weddington Animal Hospital is very proud to serve the pets within our hometown of Matthews, NC.