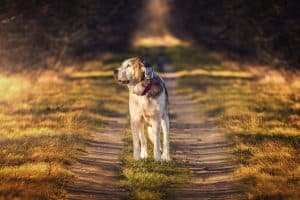 So you are planning a trip? Moving across the country? Interested in bringing your pet(s) along? Traveling with your pet can be a rewarding experience, but typically requires some additional research and work. It is important to research the pet travel requirements of where you are traveling – this includes the airline if you are flying, as well as state or international specific guidelines for traveling with a pet. Some locations, particularly if you are traveling internationally, have very specific timelines and guidelines that must be followed to ensure your pet is able to travel safely. If you are planning a trip, it is important to consult your veterinarian, ideally several weeks/months in advance, prior to travel to identify specific needs for your pet and help formulate a plan to decrease stress and ensure all documents are ready for travel for you and your pet.
Airports and Car Rides
Airports and car rides are often new environments for your pet and may be triggers of stress or anxiety. Providing a safe, quiet space for your pet – such as an airline approved carrier – can help keep them safe and prevent them from wandering or getting lost. Calming pheromone sprays or collars such as Feliway or Adaptil, thundershirts, or familiar toys/blankets may be beneficial in decreasing stress. Be sure to pack a travel supply of food, water, and litter for your pet. If your pet requires daily medication, plan ahead and have an appropriate amount (with a few days extra if possible!) stored in a safe place. If your pet is prone to car sickness or anxiety, your veterinarian will be able to help assist you with tips or medication to help them be as comfortable as possible during the trip.
Have an Emergency Plan
Identify an emergency plan and emergency contact that is familiar with your pet in case of an emergency. Keep a copy of your pet's health and vaccination records, health certificate, and rabies certificate on hand and readily accessible. Allow your pet frequent breaks if driving or during layovers to help them relax – most airports and rest stops have pet-friendly access points to allow them to stretch their legs and relieve themselves.
Call the Airline in Advance
If you are flying, call the airline in advance and ask about particular requirements for flying with a pet. When you are arriving for your flight, alert the flight attendants and crew that you are flying with a pet. If your pet is in cargo, you may want to confirm that your pet has made it on board, particularly if you have multiple connecting flights, to prevent unnecessary stress. Be sure there is water available for your pet to help prevent dehydration.
Keep Your Pet Restricted When Driving
If driving, make sure your pet is stowed in a safe location in the vehicle, whether crated in the back, seated with a belt, or in a carrier. It is important to keep your pet relatively restricted while driving to prevent accidents and ensure you and your pet remain safe.
Up to Date Vaccinations and Check-Ups
It is important to ensure your pet is up to date on all required veterinary health care (vaccinations, fecal, heartworm/flea prevention) prior to travel. Often times, microchips are required for access to certain states or countries. Even if not required, microchipping is highly recommended in case your pet were to get lost and to give them a unique way to be identified. A certificate of veterinary inspection (CVI) or health certificate is required to cross state lines with your pet and typically must be completed by a veterinarian within 30 days prior to travel. Each state and country has unique requirements for travel. Some countries require specific vaccinations and treatments. Specific, unique timelines may be required to be followed in order to grant access for your pet to accompany you on your trip. Since these rules are constantly changing and are unique for each state/country, it is extremely important that you contact a USDA accredited veterinarian to help guide you through this process.
Create a Stress-Free Trip for All
If you are staying overnight, be sure the place you are staying is pet-friendly. Pet-friendly hotels and places are available in many locations. If there is any question, call the location and ask directly.
Traveling with a pet can be tricky at times, but can be rewarding and stress-free with proper planning and attention to detail. At Weddington Animal Hospital, we have USDA accredited veterinarians on staff that can assist you in traveling with your pet and decreasing as much stress – for you and your pet – as possible. If you are planning a trip and have any questions or would like to schedule a visit for a health certificate prior to travel, please contact us at 704-847-8466 or email us at wah@wahcares.com.